UPDATE!!!

DECEMBER 2022 Available Dogo Argentino Puppies for sale to the best homes only 🙂

AKC GRAND CHAMPION TERREMOTO BRAVOURE BLANCHE, TOP WINNING AKC DOGO ARGENTINO, 2 x WESTMINSTER INVITED! MOTHER IS ARG CH INT JR CHAMPION ARANZA! GRAND SIRE IS ALL TIME WINNING RECORD BREAKING DOGO ARGENTINO ON THE WORLD OF RECENT HISTORY. SCROLL DOWN THE PAGE FOR MORE INFO ON LEGEND DOGOS AND ADDING A PUPPY FROM OUR FAMILY TO YOURS.

•2 X WORLD
CHUCARO 
Bravoure Blanche is grandsire.

•WORLD

CHAMPION



•ARG CHAMPION


•MEX CHAMPION

•ARG CHAMPION


•LAT CHAMPION


•ARG GRAND CHAMPION

•BRA Champion Argentino

•Champion Belga

•INTERNATIONAL CHAMPION

•Ch VENCEDOR

• Ch SISALAM

•MULTI CHAMPION WORLD & BEST IN SHOW WINNER

•Champion CONTINENTAL

….

SIRE,MOTHER,GRANDSIRE,BELOW
Available Dogo Argentino Puppies for sale aka Argentine Dogo puppies: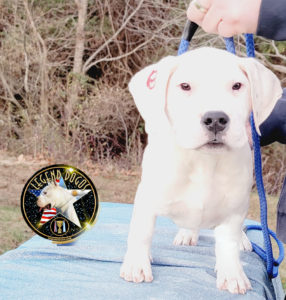 LEGENDDOGOS ARGENTINO PUPPIES BELOW ARE FROM PAST LITTERS AND NOW WITH NEW FAMILIES: THANK YOU
Information on Legend Dogo puppies: We only have about 1 -2 litters of dogo puppies a year at the most. We believe in quality & care not quantity. We accept applications for our waiting list. Our Dogo Argentina puppies are hand raised from birth inside our home with our human childeren. Both parents are top ranking show Champions or International Champions. Most grand parents are Argentine dogo puppy World Champions or International Champions. We do not believe in inbreeding or close line breeding at all! The bloodlines behind our Dogos is full of World Champion, International Champion, Argentina Grand Champion & American Grand Champions! The absolute best Argentina Champion. Our dogo puppies have fabulous dogs behind them such as our stud INT CHAMPION APOLLO's sire MULTI CHAMPION BOMBON DEL DON ATA", "Bombon" is one of the most titled dogos in history & #1Top rankingdog inArgentina yr "2004" , yr "2003" Bombon was #1 ranked Jr dog in Argentina /FCA all breeds. Also 2X WORLDCHAMPION INT CHAMPION "YATAY DELGUALILAN", "GRAND ARGENTINA CHAMPION Bombon De Los Medanos" Top #1 Dogo in Argentina in 1999& World CH ARG CH Talisman De la Vieja Diana just to name a few of the famous Dogos in our puppies immediate pedigrees (parents & grandparents.) – We hand raise our Dogo Argentino puppies in our bed room with our human children from birth to insure the best temperaments possible. Before contacting us please understand we are not selling our Dogo Argentino puppies to be breeding things! We are willing to grant breeding/show rights to special homes but we are very picky about this.Our puppies are top quality, bred to the highest standard and family raised. Please understand our Dogo Argentino puppies are our children and we must insure their future happiness… Every new Argentinian mastiff picturehome must fill out our questionnaire & get approved to own one of our Dogo Argentino puppies. All of our puppies are health guaranteed. We can send our Dogo Argentino puppies to thier new homes on Airline flights that follow the pet-safe program. Our Dogo Argentino puppy adoption fee is normally priced at $8,500 – $20,500 each, depending on how "show quality" they are and other factors. Please call or email us for an application if you think one of my Dogo puppies would be the right match for your family.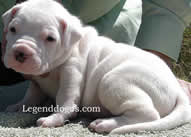 If you are approved we will require a non-refundable deposit of $300 to reserve a Dogo puppy. We normally take our deposits with PayPal. The remaining balance must be paid by cash, bank wire, or check if the check is cleared before puppy goes home. If you want to pay with a credit card you should check with your cc company to see if you can get a Cash advance on your credit card. Email: legenddogos@gmail.com DOGO ARGENTINO PUPPIES PICTURED BELOW PAST & PRESENT, SCROLL PAST THE DOGO ARGENTINO PUPPY PICTURES TO SEE MORE FAMILY TREE PEDIGREE PICTURES…Also see Legend Dogos videos at http://www.youtube.com/user/legenddogos