"GRAND CHAMPION ESTILO FUERTE ABSOLUTE FAVOURITE" "FABULOUS" # 1 Dogo Argentina in America 2007
Sire is: "V-WORLD CHAMPION -2002 & V- WORLD CHAMPION-2003, INTERNATIONAL CH ,NET CH, DEN CH, GER CH, VDH CH "YATAY DEL GUALILAN"
Mother is: INTERNATIONAL GRAND CH. LUX CH, EST CH, LAT CH, LIT CH, BLR CH, UKR CH "YANNI HOUSE STREGA ENIGMATICO".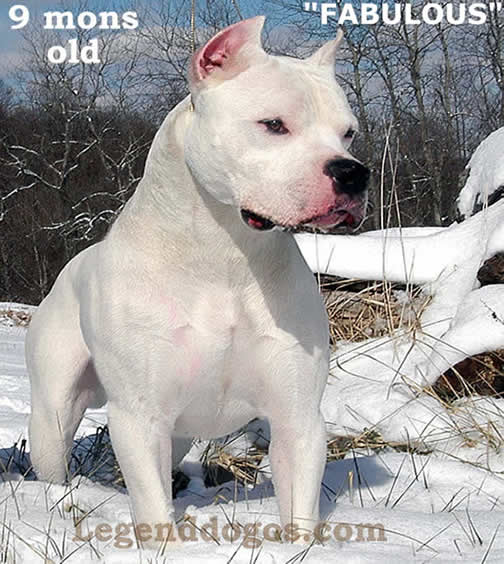 "FABULOUS" (DOGO ARGENTINA PICTURED BELOW) HAS A WDOGO ARGENTINAONDERFUL PERSONALITY, EXCELENT HEALTH, AN UNBEATABLE WORLD & INTERNATIONAL CHAMPION FILLED PEDIGREE & HAS DONE A PHENOMENAL AMOUNT OF WINNING IN THE SHOW DOG RING BOTH INTERNATIONAL & IN AMERICA AT A VERY YOUNG AGE. PLEASE SCROLL DOWN THE PAGE & GET TO KNOW ALL ABOUT FABULOUS CHAMPION DOGO ARGENTINA! FYI HIS PEDIGREE/FAMILY TREE & LOTS OF FAMILY PICS ARE LIST AT THE BOTTOM OF THIS PG. *"FABULOUS" IS THE DOGO ARGENTINA WINNEROF Bp WORLD DOG SHOW IN POLAND '2006' CHAMPIONS OF PEACE' AT ONLY 7 MONTHS OLD! BRINGING HOME HIS FIRST WORLD CHAMPION DOG SHOW DIPLOMA! INTERNATIONALY AT FCI SHOWS HE HAS WON Bp WW , 4xBISp, 9xBP.
IN NOVEMBER 2006 FABULOUS PASSED 11 NATIONAL CHAMPIONSHIP of DOGO BREED UNDER RESPECTED JUDGE: "ADINOLFI ENRICO" FROM ITALY BECOMEING BEST Puppy OF NATIONAL CHAMPIONSHIP! NOV 4 2006 AT DOGO ARGENTINO SPECIALTIY SHOW IN EROUPE HE PASSED THE REGIONAL MONO-ROCK BIG EXHIBITION of rank "KCHK & was BEST PUPPY OF DOGO BREED! UNDER RESPECTED JUDGE: "YE. VA GREG". ALL EXTREMELY COMPETITIVE WINS! FABULOUS AMERICAN UKC SHOW WINS: 5 X bp, CH, BOB X 20 AMER CHAMPIONSHIP, NUMERDogo Argentino ChampionOUS GROUP & OTHER WINS. "FABULOUS" EARNED HIS AMERICAN CHAMPIONSHIP IN ONE WEEKEND PLUS ONE DAY. THE AMAZING THING ABOUT SHOWING "FABULOUS" WAS AS A PUPPY IN AMERICA HE WON BEST OF BREED ALMOST EVERY TIME THAT HE WAS SHOWN!! HE HAS WON OVER EVERY DOG THAT HE HAS BEEN SHOWN AGAINST IN AMERICA! EACH & EVERY ONE OF THESE WINS WAS OVER ADULT GRAND CHAMPION SHOW DOGO ARGENTIOS. (ALL OF THESE WINS WERE AS A PUPPY UNDER 12 MONTHS OLD MOST OF THESE PRESTIGIOUS WINS ARE EVEN FROM THE PUPPY CLASS!)
APPLES DODogo ArgentinosN'T FALL FAR FROM THE TREE. "FABULOUS" HAD A GOOD HEAD START BEING THE SON OF 2 AMAZING DOGOS. HIS ARGENTINA IMPORT SIRE IS A 2 X Vice WORLD CHAMPION-2002, Vice WORLD CHAMPION-2003, INTERNATIONAL CHAMPION, CHAMPIONOf DENMARK, CHAMPION OF FINLAND, CHAMPION OF HOLLAND. FABULOUS'S MOTHER IS AN INTERNATIONAL GRAND CHAMPION, CHAMPION Of Luxemburg, CHAMPION Dogo ArgentinoOf Latvia, CHAMPION Of Lithuania, CHAMPION of Estonia, CHAMPIONBaltii, CHAMPION Of Belarus, GRAND CH Of Ukraine, RUS CHAMPION, NATIONAL CHAMPION-2005, CHAMPION Hope of Europe -2003… "FABULOUS'S" LITTER MATE BROTHER "GRAND CHAMPION ESTILO APPLAUSE SENSATION" (ALLSO OWNEDBY LEGEND DOGOS) FINISHED HIS UKC CHAMPIONSHIP ATONLY 6 MOTHS OLD! & HIS UKC GRAND CHAMPIONSHIP AT ONLY 8 MONTHS OLD! FABULOUS'S 2 LITTER MATE SISTERS "CH ARGENTINA TANGO QUEEN" &CH AMORE INFINITY OWNED BY ALLA Kurenkova HAVE EARNED MULTIPLE INTERNATAL CHAMPION FCI TITLES AT ONLY A YEAR OLD, SUCH ASCHAMPION Eurasia -2007″,
V CHAMPION of Luxemburg -2007, best Junior of the entire exhibition Speciality Show for Mastiffs-2007 (Tallinn), CHAMPIONSHIP of Europe -2007 (Croatia), CHAMPION OF Estonia, CHAMPION OF Belarus CHAMPION RUS, MULTIPAL BEST OF SHOW WINNERS * FABULOU'S ALSO HAS A GREAT PERSONALITY. VERY ALERT & INCREDIBLY HAPPY! FABULOUS IS B.A.E.R TESTED WITH PERFECT HEARING, HIS FCI HIP PRELIMINARIES ARE A GRADE A! FABULOUS'S SIRE IS B.A.E.R TESTED WITH PERFECT HEARING IN BOTH EARS, FCI GRADE B.1 HIPS. FABULOUS'S MOTHER IS ALSO B.A.E.R TESTED WITH PERFECT HEARING IN BOTH EARS & FCI GRADE B.1 HIPS! * Below is Fabulou's outstanding pedigree/family tree. CHAMPION title Dogos are highlighted in REDfor you! Notice not only is Fabulous's sire a 2 X World & International Champion, Mother GrandInternational Champion but also 3 OUT OF 4 of Fabulous's grandparents are also WORLD, INTERNATIONAL or GRAND CHAMPIONS! The grand sire on his mother side is a v WORLD CHAMPION & Top Dog Argentino '2000' FCA Argentino. Fabulous's grand sire on his father's side is famous Arg GR CH Bombon De Los Medanos who was the #1 Dogo in Argentino 1999. FYI, Some of the very best Dogo bloodlines in the world & in Aregentina: De Los Medanos, De El Tumi "Pampas"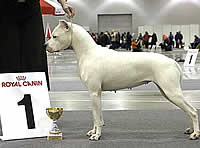 FABULOU'S PEDIGREE / FAMILY TREE: (PLEASE SCROLL PAST FABULOUS'S PEDIGREE FOR MORE FAMILY PICS)
Sire:

WW CH-2002,
v.WW CH-2003,
INTERNATIONAL

CHAMPION
CH DENMARK,
CH GERMANY,
CH FINLAND,
CH NETHERLANDS,
*Italian RADUNO-2002
BOB Finnish Specialty Show- 2005,
Amsterdam Y.Winner 2001,
Bundessieger Winner 2002,
Amsterdam Winner 2003,
Bundessieger Winner 2005
YATAY DEL GUALILAN 

Grand Sire:

GRAND CH Argentina,
CH Latinoamericano

#1 Dogo in Argentina 1999′
Bombon De Los Medanos
FCA 14157

Great Grand Sire:

Grand CH Argentina,
CH Latinoamericano
Zorzal De Antares
FCA 12266

Grand CH Argentina
Guri White King Of The Pampas
FCA 7889

Caribe White King Of The Pampas
FCA 6393

Violeta White King Of The Pampas
FCA 673

Grand CH Argentina
Primera De Antares
FCA 10809

Grand CH Argentina
Don Torcuato De La Vieja Diana
FCA 9295

Grand CH Argentina
Nemesis De Antares
FCA 8978

Great Grand mother:

Grand CH Argentina
Ilusion De Los Medanos
FCA 12800

Grand CH Argentina, CH INT
Ucayali De El Tumi
FCA 12195

CH ARG Mole De El Tumi FCA 10164

Nacha De Los Medanos
FCA 10583

CH Argentina
Greta De Hiros
FCA 9362



Grand CH Argentina
Toro Viejo De El Tumi
FCA 6959

Australita De Morisco
FCA 7840

Grand mother:

Brava Del Indio Blanco
FCA 14205

Great Grand Sire:

Grand CH Argentina,
CH Latinoamericano, CH INT
Indio Del Litoral
FCA 11480

Chalaco De El Tumi
FCA 8833

Grand CH Argentina
Gitano De Viluco
FCA 4683

СH Argentina
Chalaca De El Tumi
FCA 6965

Gringa Del Litoral
FCA 10189

Chalaco De El Tumi
FCA 8833

Chuspa Del Litoral
FCA 2938

Great Grand mother:Brisa De Inti Huasi
FCA 13576

Talcan De El Tumi
FCA 12206

ARG CH Mole De El Tumi FCA 10164

Toba De Los Guayabos
FCA 9485

Camba De El Tumi
FCA 10832

CH Atahualpa De El Tumi
FCA 9215

Grand ARG CH
Chavin De El Tumi
FCA 9864

Mother:

CHAMPION INTERNATIONAL,

National championship -2005 Grand CHAMPION FCI
• CH Luxemburg
• Champion Latvia
• CH Lithuania
• CH Estonia
• CH Baltii
• CH Belarus'
• Grand CH Ukraine
• Champion OF RKF
• Champion Of the club
• Young Champion Of Russia
• Hope of Europe -2003
• Prize-winner Of the championship Of Europe -2005
• BOS Eurasia -2007-1 CHAMPION
YANNI HOUSE STREGA ENIGMATICO

Grand Sire:

R.WW-2000, CH

INTERNATIONAL CH GRAND CH ARG, CH ITALIAN,CH Soth America
CH LatinoAmericano,
TOP DOG FCA-2000, Best of Club "Antonio Nores Martinez" -1999, 2000, 
Reproducing CH-2002 BEST DOGO OF YR-2002
Baron De La Herencia
FCA 15175

Great Grand Sire:

CH Argentina
Sando Del Litoral
FCA 11217

Chalaco De El Tumi
FCA 8833

СH Argentina
Gitano De Viluco
FCA 4683

СH Argentina
Chalaca De El Tumi
FCA 6965

Gringa Del Litoral
FCA 10189

Chalaco De El Tumi
FCA 8833

Chuspa Del Litoral
FCA 2938

Great Grand mother:Tormenta De Los Medanos
FCA 13346

WJW-1993, WW-1995
Huaino De El Tumi
FCA 12194

ARG CH Mole De El Tumi FCA 10164

Nacha De Los Medanos
FCA 10583

Pimienta De Los Medanos
FCA 11004

CH Argentina
Toro Viejo De El Tumi
FCA 6959

Gringa De Los Medanos
FCA 10429

Grand mother:

INTERNATION CHAMPION Grand CH RUS,• Champion Latvia
• CH Lithuania
• CH Estonia
• CH Belarus' BALTIC WINNER-2002, CH CLUB
Quecha Indios Baby
LOI 01/163759 RKF 1221085

Great Grand Sire:

WJW-1994, EUW-1998,CH INT, IT, TOP DOG-1998, Reproducing CH, Spanish Club Winner
Gaucho De Indios
LOI SG 134430

EUW, CH INT, CH LUX,
CH D, NL
Valet De Agallas
FCA 9850

Otelo De Agallas
FCA 5747

Herdina De Agallas
FCA 8123

Amauta De El Tumi
LOI SG 126307

ARG CH Mole De El Tumi
FCA 10164

Suinda De El Tumi
FCA 8235

Great Grand mother:

Belem Por Indios
LOI 98/40019

Payen De Sacdem
LOI 98/400010

Arunco De Shayhueque
FCA 10258

Voladora Del Esplendor
FCA 11981

Blanca Dama De Vianini
LOI SG 146811

Maradonna De Agallas
LOI SG 133702

Quemada De Vianini
LOI SG 141310
FABULOUS's sire Below "2 X V WORLD CH INT CH YATAY DEL GUALILAN" Owned By kennel PERRO PELEA CORDOBES