"GRAND CHAMPION ESTILO APPLAUSE S
Questa is a male solid white Dogo Argentino aka Argentine dogo or Argentinian mastiff owned by Legend Dogo Argentinos. Born Mar, 2006.
Questa's Sire is: "2 X Vice WORLD CHAMPION -2002, Vice WORLD CHAMPION-2003 INTERNATIONAL CHAMPION NET CH, DEN CH, GER CH, VDH CH "YATAY DEL GUALILAN".
Questa's mother is: INTERNATIONAL GRAND CH. LUX CH, EST CH, LAT CH, LIT CH, BLR CH, UKR CH "YANNI HOUSE STREGA ENIGMATICO"
QUESTA EARNED HIS AMERICAN UKC CHAMPIONSHIP IN ONE WEEKEND AT ONLY 6 MONTHS OLD!QUESTA EARNED HIS AMERICAN UKC GRAND CHAMPION AT ONLY 8 MOTHS OLD! QUESTA IS A JOY TO BE AROUND VERY HAPPY, SWEET & JUST LOVES MY 8 YEAR OLD SON WHO OFFTEN HANDLED HIM AT SHOWS! I AM SORRY MOST OF MY PICTURES OF QUESTA ARE AT ONLY 6 MONTHS OF AGE. WE SHOWED HIM FROM 6-8 MONTHS OF AGE WHEN WE TOOK MOST OF OUR PICTURES OF HIM. HE IS ONLY 1 YR OLD NOW.
Dogo Argentino picturesDogo Argentino picturesQuesta Argentine dogo pictures & Champion Argentinian mastiff pictures. Please see dogo argentino pictures above & dogo argentino puppies pictures!. this is a BEAUTIFUL dogo argentino photo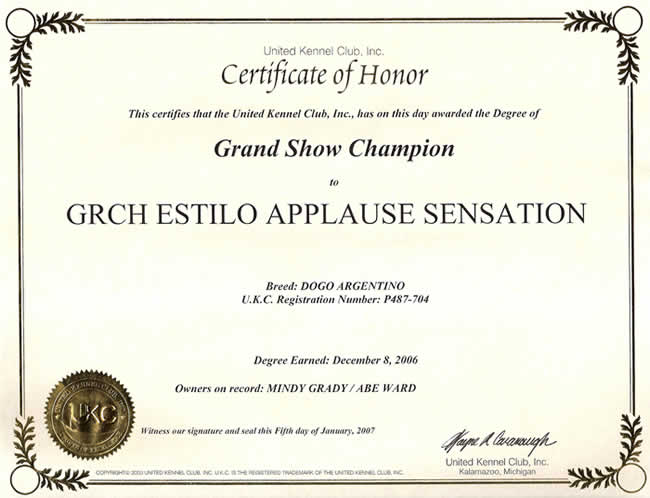 Argentine dogo pictures & Argentinian mastiff pictures. Please see dogo argentino pictures above & dogo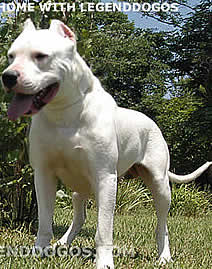 argentino puppies pictures!. Questa BEAUTIFDogo Argentino pictures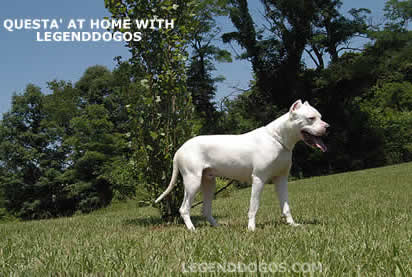 Dogo Argentino picturesUL dogo argentino photoArgentine dogo pictures & Argentinian mastiff pictures. Please see dogo argentino pictures above of Champion Questa & dogo argentino puppies pictures!. this is a BEAUTIFUL dogo argentino photo
Below is QUESTA's outstanding pedigree/family tree. CHAMPION title dogs are highlighted in RED for you! Notice not only is QUESTA's sire a 2 X World & International Champion, Mother Grand International Champion but also 3 OUT OF 4 of QUESTA's grandparents are also WORLD, INTERNATIONAL or GRAND CHAMPIONS! The grand sire on his mother side is a v WORLD CHAMPION & Top Dog Argentino '2000' FCA Argentino. QUESTA's grand sire on his father's side is famous Arg GR CH Bombon De Los Medanos who was the #1 Dogo in Argentino 1999. FYI, Some of the very best Dogo lines in Aregentino: "De Los Medanos", "De El Tumi", "Pampas"
PLEASE SCROLL PAST QUESTA'S PEDIGREE FOR MORE FAMILY PICS)

QUESTA'S PEDIGREE / FAMILY TREE:
Sire:

WW CH-2002,
v.WW CH-2003,
INTERNATIONAL

CHAMPION
CH DENMARK,
CH GERMANY,
CH FINLAND,
CH NETHERLANDS,
*Italian RADUNO-2002
BOB Finnish Specialty Show- 2005,
Amsterdam Y.Winner 2001,
Bundessieger Winner 2002,
Amsterdam Winner 2003,
Bundessieger Winner 2005
YATAY DEL GUALILAN 

Grand Sire:

GRAND CH Argentina,
CH Latinoamericano

#1 Dogo in Argentina 1999′
Bombon De Los Medanos
FCA 14157

Great Grand Sire:

Grand CH Argentina,
CH Latinoamericano
Zorzal De Antares
FCA 12266

Grand CH Argentina
Guri White King Of The Pampas
FCA 7889

Caribe White King Of The Pampas
FCA 6393

Violeta White King Of The Pampas
FCA 673

Grand CH Argentina
Primera De Antares
FCA 10809

Grand CH Argentina
Don Torcuato De La Vieja Diana
FCA 9295

Grand CH Argentina
Nemesis De Antares
FCA 8978

Great Grand mother:

Grand CH Argentina
Ilusion De Los Medanos
FCA 12800

Grand CH Argentina, CH INT
Ucayali De El Tumi
FCA 12195

CH ARG Mole De El Tumi FCA 10164

Nacha De Los Medanos
FCA 10583

CH Argentina
Greta De Hiros
FCA 9362



Grand CH Argentina
Toro Viejo De El Tumi
FCA 6959

Australita De Morisco
FCA 7840

Grand mother:

Brava Del Indio Blanco
FCA 14205

Great Grand Sire:

Grand CH Argentina,
CH Latinoamericano, CH INT
Indio Del Litoral
FCA 11480

Chalaco De El Tumi
FCA 8833

Grand CH Argentina
Gitano De Viluco
FCA 4683

СH Argentina
Chalaca De El Tumi
FCA 6965

Gringa Del Litoral
FCA 10189

Chalaco De El Tumi
FCA 8833

Chuspa Del Litoral
FCA 2938

Great Grand mother:Brisa De Inti Huasi
FCA 13576

Talcan De El Tumi
FCA 12206

ARG CH Mole De El Tumi FCA 10164

Toba De Los Guayabos
FCA 9485

Camba De El Tumi
FCA 10832

CH Atahualpa De El Tumi
FCA 9215

Grand ARG CH
Chavin De El Tumi
FCA 9864

Mother:

CHAMPION INTERNATIONAL,

National championship -2005 Grand CHAMPION FCI
• CH Luxemburg
• Champion Latvia
• CH Lithuania
• CH Estonia
• CH Baltii
• CH Belarus'
• Grand CH Ukraine
• Champion OF RKF
• Champion Of the club
• Young Champion Of Russia
• Hope of Europe -2003
• Prize-winner Of the championship Of Europe -2005
• BOS Eurasia -2007-1 CHAMPION
YANNI HOUSE STREGA ENIGMATICO

Grand Sire:

R.WW-2000, CH

INTERNATIONAL CH GRAND CH ARG, CH ITALIAN,CH Soth America
CH LatinoAmericano,
TOP DOG FCA-2000, Best of Club "Antonio Nores Martinez" -1999, 2000, 
Reproducing CH-2002 BEST DOGO OF YR-2002
Baron De La Herencia
FCA 15175

Great Grand Sire:

CH Argentina
Sando Del Litoral
FCA 11217

Chalaco De El Tumi
FCA 8833

СH Argentina
Gitano De Viluco
FCA 4683

СH Argentina
Chalaca De El Tumi
FCA 6965

Gringa Del Litoral
FCA 10189

Chalaco De El Tumi
FCA 8833

Chuspa Del Litoral
FCA 2938

Great Grand mother:Tormenta De Los Medanos
FCA 13346

WJW-1993, WW-1995
Huaino De El Tumi
FCA 12194

ARG CH Mole De El Tumi FCA 10164

Nacha De Los Medanos
FCA 10583

Pimienta De Los Medanos
FCA 11004

CH Argentina
Toro Viejo De El Tumi
FCA 6959

Gringa De Los Medanos
FCA 10429

Grand mother:

INTERNATION CHAMPION Grand CH RUS,• Champion Latvia
• CH Lithuania
• CH Estonia
• CH Belarus' BALTIC WINNER-2002, CH CLUB
Quecha Indios Baby
LOI 01/163759 RKF 1221085

Great Grand Sire:

WJW-1994, EUW-1998,CH INT, IT, TOP DOG-1998, Reproducing CH, Spanish Club Winner
Gaucho De Indios
LOI SG 134430

EUW, CH INT, CH LUX,
CH D, NL
Valet De Agallas
FCA 9850

Otelo De Agallas
FCA 5747

Herdina De Agallas
FCA 8123

Amauta De El Tumi
LOI SG 126307

ARG CH Mole De El Tumi
FCA 10164

Suinda De El Tumi
FCA 8235

Great Grand mother:

Belem Por Indios
LOI 98/40019

Payen De Sacdem
LOI 98/400010

Arunco De Shayhueque
FCA 10258

Voladora Del Esplendor
FCA 11981

Blanca Dama De Vianini
LOI SG 146811

Maradonna De Agallas
LOI SG 133702

Quemada De Vianini
LOI SG 141310
QUESTA's sire Below "2 X V WORLD CH INT CH YATAY DEL GUALILAN"(dogo argentino) Owned By kennel PERRO PELEA CORDOBES