The Dogo Argentino (AKA Argentine Mastiff or Argentine Dogo) is a muscular yet graceful dog of mastiff stock. The Dogo Argentino coat is sleek, smooth, short and pure white with occasional ticking and no undercoat. The dogos head is massive and convex in front with a moderate stop. The jaws are strong in appearance and tenacious. The ears are customarily docked and the eyes are usually dark brown or dark hazel with an intense, intelligent and always alert expression. The nose should be black. The chest is wide and deep giving the impression of great strength. The skin on the neck is fairly loose but not 'floppy' or 'saggy'. The tail is long, reaching to the hock and should never be carried over the back. Although it may be carried high or wagged when the Dogo is excited.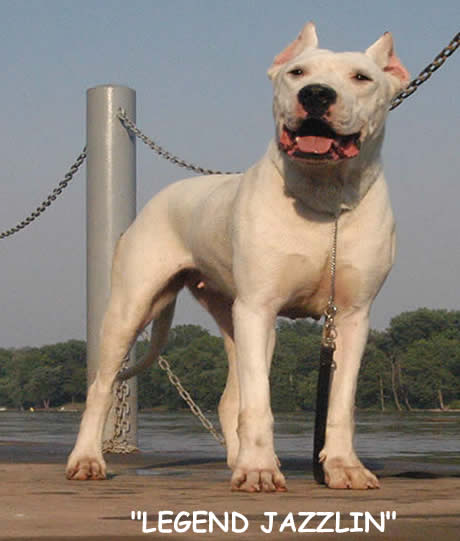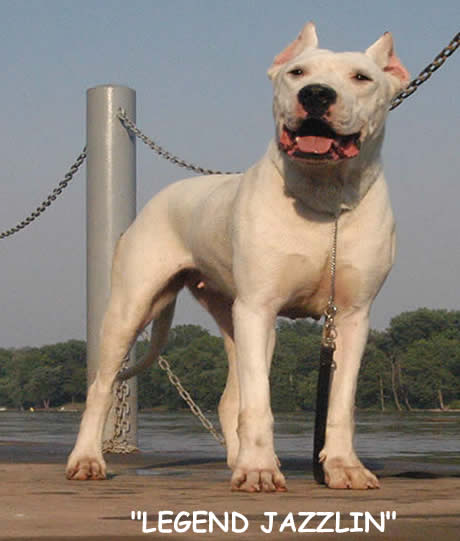 Loving companion, loyal guardian, courageous hunter, intelligent guide.. The Dogo Argentino wears many hats. Although relatively young as a breed the Dogo Argentino has proved itself a highly versatile dog not just dabbling in the aforementioned areas but acceling in them.
The Dogo Argentino is actually a large game hound originally bred for hunting wild boar and puma in the rugged Argentine countryside. This is an idea often lost on Dogo lovers who pamper and sleep with their sweet, gentle, loving companions.
The Dogo Argentino is highly intelligent, very loyal, great with children and is an excellent guardian of the home. They will fiercely protect their home and family if they perceive danger. Their intelligence makes them highly trainable and their loyalty makes them natural heelers. Dogo Argentino are among the easiest dogs to house train. They respond best to positive reinforcement and motivation training. They do not respond well to force training.
Due to their protective/guardian nature and sheer power they should be well socialized early on with other animals, especially dogs, to avoid aggression towards other animals in adulthood. Although the Dogo Argentino rarely provokes confrontation they are fearless and tenacious in defending themselves as well as their family. The Dogo Argentino, while exceptionally loving, kind and loyal to their owner and family, is a breed originally intended to hunt. So it is important to remember that, while socialization is often all that is needed to avoid aggression towards dogs, cats and other small animals, they can and some Dogos DO have a stronger prey drive than others, especially when it comes to small animals and cats. Many breeders claim that environment and socialization are all that matters. But if you own other dogs, cats or any other small animals you should be sure that your breeder has a small and personal enough program to be able to evaluate each puppy individually for temperament and prey drive. Whatever the temperament as a puppy, and whatever the pedigree history, any potential Dogo owner should be ready to work with and adjust to a Dogo that might develop a stronger prey drive in adulthood.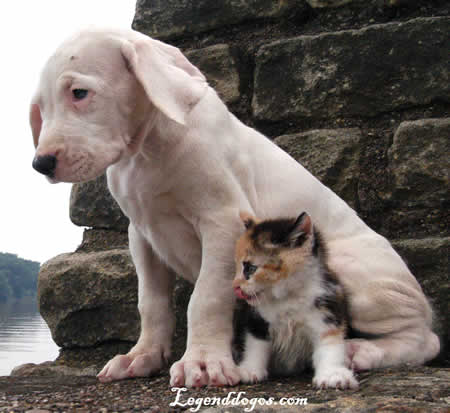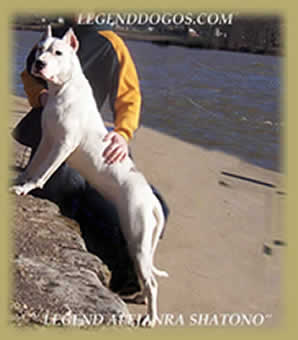 The Dogo Argentino craves and needs lots of human attention and physical contact. He loves being a part of the family and expects to be included in all family affairs. Simply lying next to you will keep a Dogo Argentino content for hours. He loves and accepts the friends you accept. He will excitedly (not forcefully) greet familiar guests with a few licks and possibly a light batting of the paw when they show up.
Much can be said about today's Dogo Argentino. They are becoming increasingly popular not only as family pets and guardians but also for hunting, tracking, police work, military work, search and rescue and as guides for the blind. Yes in the 1920's the Dogo was a legend in the making. Thankfully and deservedly so, he is now a living legend!